-
Freestyle
(
http://www.totalimmersion.net/forum/forumdisplay.php?f=5
)
| | |
| --- | --- |
| Zenturtle | 09-18-2018 07:08 AM |
---
Whats the latest news on Shinjis open water experiment?

This footage is already from 2015, so whats does his stroke look like now?
https://www.youtube.com/watch?v=JSDh7fAsMhc
He skips the backend of his stroke to get to higher frequencies it seems.
Doensnt look like the optimal endsolution.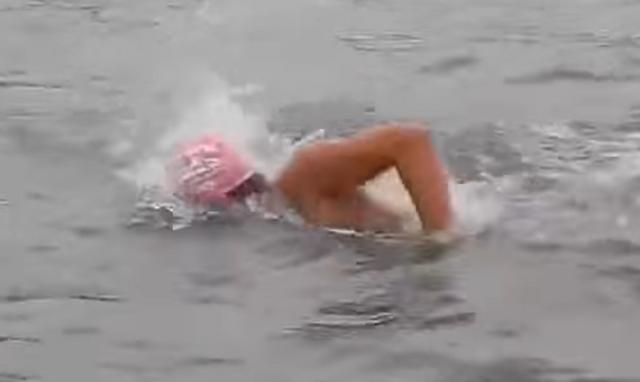 | | |
| --- | --- |
| WFEGb | 09-18-2018 08:40 AM |
---
Hello ZT,
maybe Shinji is still reader of this forum and might help... or question to
info-e@tiwim.jp
... But if
you
can't find it, I'm afraid there isn't any...
BTW: Stumbled over an
old video
with some similarities above surface... in my range all three are swimming fast... in theirs (and yours?) probably not...
Best regards,
Werner
| | |
| --- | --- |
| Mushroomfloat | 09-20-2018 03:24 AM |
---
the question that needs to be asked is:

is Shinji "kayaking"
| | |
| --- | --- |
| CoachStuartMcDougal | 09-21-2018 02:39 AM |
---
No, Shinji not windmilling or kayaking, just increased tempo, six beat kick and shortened stroke length. After his dnf at Rottnest swim when he went hypothermic 8 miles in, someone convinced him he had to change his stroke for rough, cold water. He didn't need to change, only needed to acclimate to colder temps after swimming most open-water in the South Pacific at 85+ degs.
When Shiji and I swam Bridge to Bridge 10k (Golden Gate to Oakland Bay Bridge) 2015/2016, watertemp 58deg and bumpy. Shinji's stroke rate around 75 spm - 6bk, choppy. I was 55-60spm, 2bk (mostly) and we both finished within 10 seconds of each other. Shinji did more acclimation for SF swims than he did for Rottnest, but cold water was still tough for him to manage. I grew up on Pacific Coast have an extra 10lbs of channel insulation, I'm pretty comfy in mid to low 50's water :-) Given more time, acclimation and practice in cold, lumpy open water conditions, Shinji would move closer to his pool stroke/tempo and I believe he already has
Stu
mindbodyandswim.com
All times are GMT. The time now is

09:02 PM

.
Powered by vBulletin®
Copyright ©2000 - 2022, Jelsoft Enterprises Ltd.