That looks like a very exhausting stroke.
You pull like an animal. plenty of power available!
But you waisting all that pulling power in a slipping paddle, and no connection to the rest of the body.
You are trying to swim too long.
You are putting too much emphasis on the pulling part and forget the center of the stroke, that is the midsection of your body.
swim slower and try to focus on rolling the bodyparts around a stick thats going from top to bottom.
Try to find a way to throw the arms forward and out from within that rotating centermass.
Brace that centermass against rotation, initiate rotation with nearly straight legs, starting in the center of your body.
Once you have an idea about that, start working on a proper anchor with the arms in the water.
Now you are pulling, but you are too weak to hold your arm in shape, so you pull with a badly dropped elbow.
Never pull harder than you are able to hold your arm in shape.
This means taking much more time to position you arm in better paddle shape, notice that it is indeed in a good shape, and only then, only then...start to move your body forward over that planted arm.
https://www.youtube.com/watch?v=BGVmL2EriBY
https://www.youtube.com/watch?v=-j0ILEUd-6g
Your felt extension should be from hip to elbow, all the way untill you have set the paddle in the proper shape.
Then let the extension contract, and move forward with minimal slippage.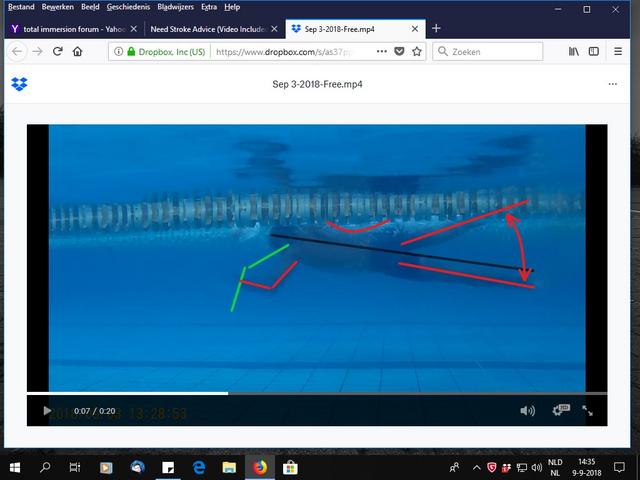 to improve:
dropped elbow, should be like green line
wide splaying legs angle between red lines.
general bodyline sloping down, black line
hips rotate more than shoulders. No channeling of propulsion into forward movement, causes an unneeded stall, waisted rotational energy.
Hollow lower back, should be straighter.
the good things.
Little kneebend, if the pulling isnt overwhelming the body tautness and alignment anymore the spaying of the legs will get less. You have not ingrained bad kneekicking technique, so you dont have to unlearn it.
Very good energy output.
I guarantee, you can swim 1.30min/100m pace instead of 1.50min/100m by only optimizing your technique.
THis will take longer than you might think, but its worth it.
Since you like to swim fast, an example from a boy from which you can learn a lot in these points.
Its not TI with this more rotary timing, but the underwater points still aplly, whatever timing you use.
https://www.youtube.com/watch?v=_x_vMkqWBWQ
(yes I know, he could hold his head lower while breathing, and has some other flaws, but the basics are very good)
The most fundamental is having a horizontal, streamlined rolling shape moving straight forward in the water.
A super high elbow catch isnt really needed to swim fast (but still better than straight), almost staight arms is already good enough, but the fundamentals need to be good to start with.
https://www.youtube.com/watch?v=FBFQ...Wkm6ej&index=4